by Liam Scheff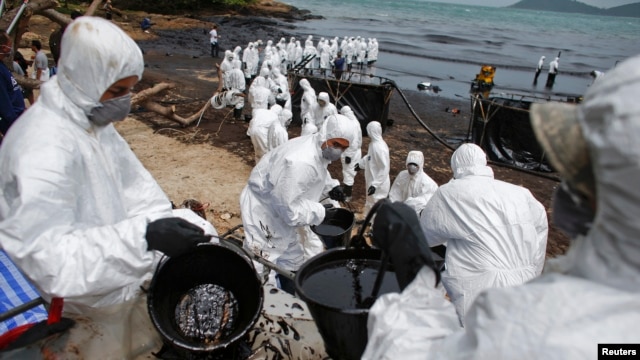 Do you ever wake up, look at 'las noticias,' and realize: "Yeah, this civilization is cooked. Die-off ahoy!"
In Brazil:
"More than 80 tons of fish suffocated in the Rio de Janeiro lagoon that will be used for Olympic rowing events in 2016, causing an ecological and olfactory nightmare in the Brazilian metropolis."  LINK
In the Gulf of Mexico:
"Gulf's dead zone bigger than Connecticut" LINK
All over the U.S.:
"Real Time Oil Spill Map" LINK
In Thailand:
"Workers in white protective suits are using shovels and buckets to battle an oil spill that is spreading along the coast of a Thai resort island and could reach the mainland." LINK
Oh, yeah. This, too:
"Dangerous levels of radiation from the crippled nuclear reactors have effectively forced us to stop our mushroom cultivation and reduced our farming income almost 80%," Watanabe told IPS. LINK

"One of its biggest headaches is trying to contain radioactive water that cools the reactors as it mixes with some 400 metric tons (441 tons) of fresh groundwater pouring into the plant daily. Workers have built more than 1,000 tanks to store the mixed water, which accumulates at the rate of an Olympic swimming pool each week. With more than 85 percent of the 380,000 metric tons of storage capacity filled, Tepco has said it could run out of space.

The tanks are built from parts of disassembled old containers brought from defunct factories and put together with new parts, workers from the plant told Reuters. They say steel bolts in the tanks will corrode in a few years. Tepco says it does not know how long the tanks will hold. It reckons it would need to more than double the current capacity over the next three years to contain all the water. It has no plan for after that." LINK
Happy Festivus, Humanity.
Oh, here's a ray of hope. If we decide to allow plants…to grow. LINK